Custom Infrared Optics
China Star Optics produces a wide range of infrared optics, including infrared optical lenses, windows, prisms, mirrors and other elements. Substrates include CaF2, MgF2, BaF2, Ge, Si, ZnSe, ZnS, Fused Silica etc. Our custom infrared optics are available with a variety of coating options that can increase the infrared throughput and durability or control depth of penetration for different performance requirements.
---
Infrared Substrates
Calcium Fluoride (CAF2) is transparant from vacuum ultraviolet to infrared spectrum (spectral range 0.18µm~8µm). Unlike Germanium and Silicon, Calcium Fluoride is transparent in the ultraviolet and visible wavelength range. High average transmittance, low refractive index, and low chromatic aberration makes it great for imaging applications. CaF2 is often a good choice for excimer laser systems and cryogenically cooled thermal imaging systems; situations where broadband transmittance is essential.
Barium Fluoride (BaF2) has excellent transmission from 0.2μm~12.5μm and is often used in NIR, VIS, and MWIR spectrums. It is resistant to high energy radiation like x-ray therefore can be used where high radiation resistance is required. It's low index of refraction of 1.48 provides high transmission without the need of anti-reflection coatings.
Fused Silica(JGS1 JGS2 JGS3) has good UV and IR transmission performance, extremely small coefficient of thermal expansion. It has high stability and resistance to thermal shock over large temperature excursions, wide temperature operating range and high laser damage threshold. It is an excellent optical material under harsh environment. IR grade Fused Silica is more expensive to produce than UV-grade fused Silica but is still more budget-friendly than other options.
Magnesium Flouride(MgF2) offers excellent broadband transmission from 0.12μm~7μm. Deep-UV transmission makes them ideal for use at the Hydrogen Lyman-alpha line and for UV radiation sources and receivers, as well as excimer laser applications. MgF2 is rugged material resistant to chemical etching, laser damage, mechanical and thermal shock. It has a Knoop Hardness of 415 and index of refraction of 1.38.
Zinc Selenide(ZnSe) is partially visible transparent. It has high resistance to thermal shock and low thermal expansion coefficient therefore Zinc Selenide is a good choice for thermal imaging cameras, high power CO2 laser systems, IR transmission analysis, ATR elements etc. Special care should be taken when handling Zinc Selenide optics as it is a toxic material. Always wear rubber or plastic gloves to avoid risk of contamination.
Germanium(Ge) is a widely used material for lenses and windows in thermal imaging and FLIR applications. It is also used extensively as a substrate for optical filters. The useful transmission range is from 2µm to15µm, making it good for far infrared. But Germanium has the property of thermal runaway, meaning the transmission decreases as temperature increases. As such, Ge window should be used at temperatures below 100. Germanium's high density (5.22g/cm3) should be considered when designing for weight-sensitive systems.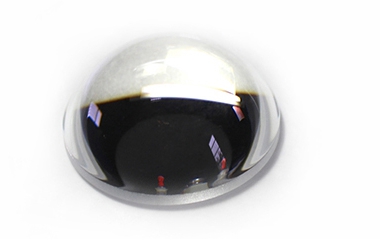 China Star Optics offers high quality custom designed infrared optical elements in any quantity from testing sample to mass production. Extremely small MOQ helps to reduce your initial project investment.
- Capacities from 2 mm to 400 mm
- A variety of UV, VIS, IR materials and crystals available
- In accordance with RoHS Standard
- Custom upon your unique optical requirements
Material:

Fused silica, Ge, Si, ZnSe, ZnS,

MaF2, CaF2

etc.

Shape:

plano, spheric, aspheric, prisms.




Diameter:

2-400mm +0/-0.1mm

Surface Quality:

40/20 Scratch and Dig




Flatness:

N<1/4L @632.8nm




Lens Centration:

3 arc sec




Coating:

Uncoated, AR Coating, BBAR Coating etc.
Raw Materials
*If you are not sure which material is the right one, just please contact us.
Materials

Refractive Index

Tranmission Range(um)

Thermal Expansion Coefficient(10-6/K)

Density

(g/cm3)

BK7

1.5164(588nm)

0.330-2.1

7.5

2.52

B270

1.5230(588nm)

0.320-2.6

9.4

2.55

Fused Silica

1.4858(308nm)

0.185-2.5

0.58

2.20

CaF2

1.428(10640nm)

0.170-7.8

18.85

3.18

MgF2

ne = 1.378,no = 1.390(587nm)

0.120-7.0

13.7 and 8.48 x10-6/°C

3.177

BaF2

1.468(10640)

0.2-11

18.4

4.893

LiF

1.392(600nm)

0.105-7.4

37.0

2.639

Sapphire

1.755(1000nm)

0.180-4.5

8.4

3.98

Silicon

3.426(5000nm)

1.2-7.0

2.55

2.33

Ge

4.004(10000nm)

2.0-14.0

5.5

5.33

ZnSe

2.403(10600nm)

0.55-19.0

7.6

5.27

ZnS

2.192(10600nm)

0.4-12

6.8

4.09